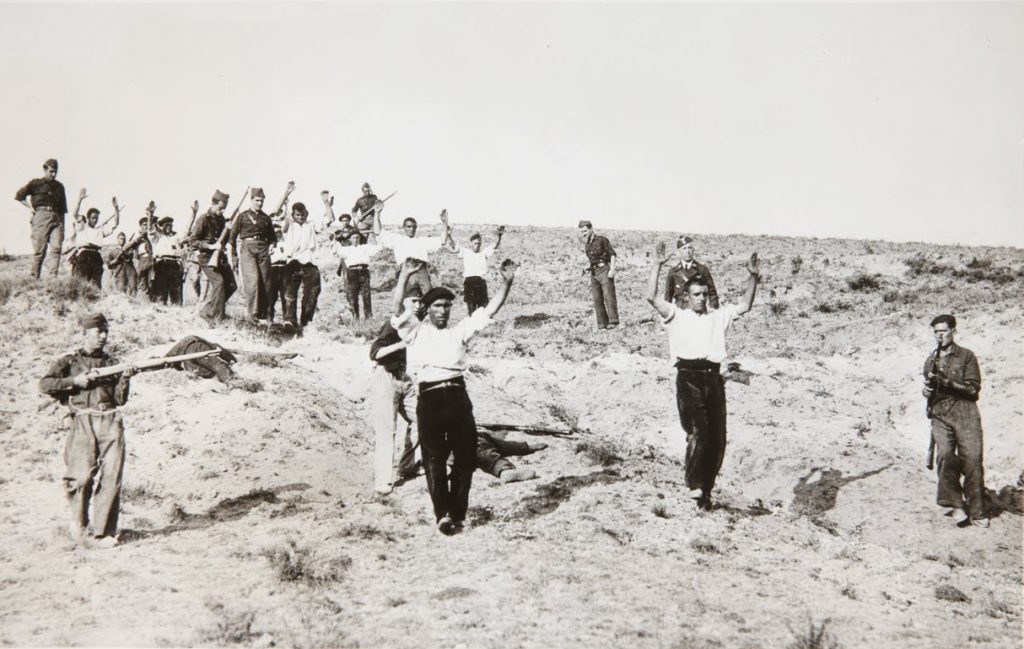 485,136 military proceedings opened against so-called «reds»: the big data of the repression
At the not-for-profit organisation Innovation and Human Rights we think that access to information is a fundamental right. Recognised as such in international law, as well as by many constitutions and in the national law of over 80 countries across the world, it implies that everyone has the right to request and receive information from public organisations.
Today we are announcing that we are making available access to the data on nearly half a million summary military judicial proceedings which were opened in a total of eleven Spanish provinces between 1936 and 1975, during the Civil War and under the Franco Regime, according to data from the Ministry of Defence. We are working on making available this kind of data for additional provinces.
«Access to information is of fundamental importance in order to break the silence and the lack of knowledge which still exist in relation to our recent history.»
Since 2016 Innovation and Human Rights has been compiling and republishing data which has hitherto been scattered across different sources and integrating this material into a Central Database on the Civil War and the Franco Regime. This may now be searched merely by the click of a mouse.
Our database now consists of over 700,000 case files, each of which provides a reference to the documentary source on which it is based as well as a page which outlines the source of the dataset, its authorship and how to acquire access to the original documentation or other source of information. Usually, the datasets are based upon indices assembled by the archives themselves, but we also include data from historical research which has been carried out in some regions of Spain, namely La Rioja, Aragón, Catalunya and Madrid, and which their authors have generously shared with us for this project (For more details search the section Datasets on our home page).
«A lot of people do not even know that their relatives were victims of reprisals; they are surprised to find their relatives' names in the database and, as a result of discovering this, request the source documentation. »
So far we have included data about eleven provinces from the following Territorial Military Tribunals (into which Spain was divided at the time):
From the First (Primero), data about Madrid, Albacete, Alicante, Castellón and Valencia;
From the Third (Tercero) data about Barcelona, Girona, Lleida and Tarragona;
From the Fourth (Cuarto) data about León and Zamora.
These were already available to the public via the pages of the following archives, respectively: the Archivo General e Histórico de Defensa, the Arxiu Nacional de Catalunya and the Archivo Intermedio Militar Noroeste.
Searches may be carried out by first name and surname. Each case file provides information on how to gain access to the original documentation and also clarifies whether the source is in an archive, or is contained in a reference in a book, doctoral thesis or academic article. In the case of data on the repression in Catalonia, Innovation and Human Rights has also produced a virtual exhibition on Summary Military Proceedings Against Women which you may consult.
Important: 485,136 refers to the number of case files of military proceedings which were opened, not to the number of individual people. An investigation could group together dozens of people. Equally, one person could have been the subject of 2, 3, 4, 5….proceedings. In the majority of cases the records do not specify what the result of the prosecution was or the sentence imposed.
Innovation and Human Rights has an interdisciplinary team of workers, mainly female, with  professional backgrounds in journalism, computer science, history, archivism and statistics.  
Our work, which has been disseminated at conferences in Spain like International Symposium Traumatic Past, History and Collective Memory in the Digital Society, at Universidad Carlos III de Madrid, has three objectives:
To provide access to information on people who were victims and/or were subject to reprisals.
To publicise the work carried out by archives, in order to increase understanding of their importance as well as of the importance of access to documentation.
To contribute to historical research, by means of sharing and cross-referencing data.
«One of the users of our database wrote to us to say that, while searching for data on one of their relatives, they found data on six. Another user told us that they wouldn't find anyone in their family, until they typed in the family name, which was an unusual one, and found someone.»
In addition, the database includes – among other things – the names of the following:
Photograph: Surrender of Republican militiamen at Somosierra, Madrid province, following the Battle of the Guadarrama in July 1936. Museo Nacional Centro de Arte Reina Sofía [Google Arts & Culture].